TCM World Congress 2019 held successfully in Seoul, Korea
Inter-Credit Group is the sole shareholder of the TCM Group in China. The TCM group is a global debt collection alliance that consists of international leading debt collection agencies and professional law firms. It currently has 153 partners worldwide and a service network covering more than 140 countries and regions. Every year an Annual General Meeting is held in a group member's country for partners to share their experiences and knowledge about global collection operation. This year's annual meeting was held in Seoul, South Korea from April 22 to April 25, 2019. TCM members from all over the world joined us in Seoul to participate in the congress. This is a formal way for our members to meet and renew friendships as well as discussing business opportunities. During the congress we reviewed our past year's achievements and looked forward to the new year's objectives. We also elected our board of directors to boost the development of the group.


The following are some of the results and minutes of this annual meeting.
1.38 delegates from 26 countries were warmly welcomed to the AGM.
2.All TCM members shared their successful cases in 2018. In this section, Inter-Credit was honored to be mentioned by partners several times and its achievements in international cases have been widely recognized by its peers.
3. Enhance the function of the TCM platform to meet the requirements of GDPR.
4.The 2019 Quality Survey was presented at the meeting which showed the rankings of each TCM members. The best performing and accomplished members were rewarded accordingly.
5.The new board of directors was elected to help the development of the group.
6.Review the latest development of the TCM Guarantee Fund, which will enter the second phase of development.
7.Communicate with local well-known corporate customers in Korea, exchange industry development trends, and create opportunities for future cooperation.
"Money knows no borders – neither do we" is synonymous with the TCM Group, which covers more than 140 countries, consisting of 153 global partners. It can provide fast and effective solutions to the complex challenges of global debt recovery. - All on a 'No Win, No Fee' basis.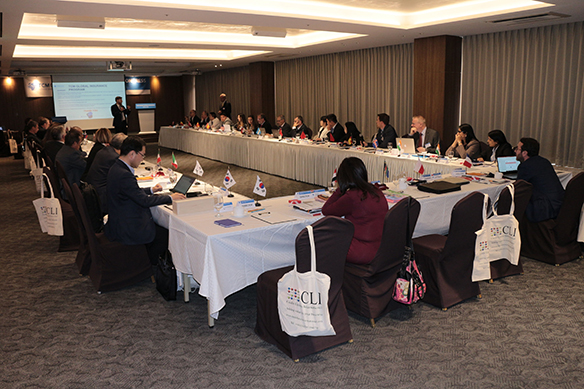 In accordance with the convention of the annual general meeting, we held an annual charity auction. The Charity Auction was initially put forward by Mr. Jeff Li, President & CEO of Inter-Credit, at the TCM Annual Meeting 2013 in Beijing. The purpose was to help people affected by the Wenchuan earthquake. Since then, the Charity Auction has continued to this day and has become an important part of the TCM Annual General Meeting. Similarly, this year's charity auction received the support of everyone and raised the highest amount of money over the years for the Korean Make-A-Wish Foundation (a global organization dedicated to granting wishes to seriously ill children). As debt collection entities, we don't only "collect" but also "give" to make a better world. Group members have not forgotten their social responsibilities and missions while making profits, and continue to return to the international community with love.

On the final day of the congress we visited the Demilitarized Zone (DMZ) on the border between North and South Korea, and gain insight into Korean War history as well as visiting the 3rd Tunnel and the Dora Observatory deck.

Our group's Vision remains "To be number 1 in global debt collection and recovery, to reverse the culture of tardy receivables payment in international trade." We will leverage the international network provided by TCM Group to provide a full range of seamless credit management services for domestic and foreign customers.
We look forward to our next World Congress which will be held in Brussels, Belgium from 12th May 2020 to 15th May 2020.